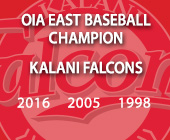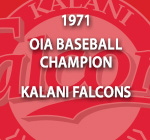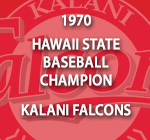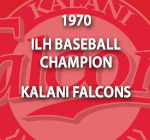 Where Are They Now?


A Hero Along the Way
Question:
Who was the first Hawaii born and raised baseball player to see action in the World Series?

Question:
Whose link to baseball history makes him the answer to a now-classic trivia question?

Question:
Who is being pegged in some circles as possibly becoming the first Asian American to manage in the major leagues?

If you didn't know that the answer to all the questions in this little pop quiz is former Kalani Falcon, Lenn Sakata, then you've got a lot to learn.

But, not to worry. This gaping hole in your education can be easily filled.

After all, just a cursory search on the internet of 'Lenn Sakata' will yield you hundreds of entries. Or, just ask any of Lenn's legion of fans, and they would be more than happy to enlighten you — especially here in Hawaii where his followers wax nearly poetic when singing his praises or recounting his exploits.

Like what happened on August 24, 1983.

Lenn's team, the Baltimore Orioles, has just managed to tie the game in the bottom of the ninth against the Toronto Blue Jays. Lenn enters in the tenth inning as catcher. Then, in the bottom of that inning, as if straight out of a Hollywood movie, Lenn saves the day by hitting a home run to win the game. Many would later argue that it is this win that spurs the Orioles on to their run for the World Series, in which Lenn becomes the first local boy to play. Hence, the answer to the first question above.



Even more amazing, though he entered this particular game as the third catcher, Lenn was actually a utility infielder and, in fact, had previously held the starting shortstop position. That is, until June 30, 1982, when Cal Ripken Jr. took over the position to begin his streak of 2,632 consecutive games played over a 16-year span. Thus, Lenn became the answer to the popular trivia question: Who was the Orioles' last shortstop before Ripken began his record streak?

Yet, make no mistake. There is nothing trivial about Lenn's talent and dedication as a pro ball player and, at the time this article was written, as the manager of the San Francisco Giants' triple-A team, the Fresno Grizzlies. Evidence of this can be found in the high regard that others in the profession hold of him. Some, in fact, speculate that Lenn may become the first Asian American to manage in The Bigs.

Indeed, Lenn Sakata, Kalani High School Class of 1971, is definitely Big Time.

Yet, while he is modestly pleased to be labeled a role model for Hawaii's youth, he seems slightly uncomfortable to be described as a hero.

In fact, he reveals that he has always felt as if he has fallen short in his career, that he's never actually felt like he was a complete success. As he puts it, he's never had a sense of total accomplishment.

Feeling that he had a lot to overcome due to his smaller Asian physique in a career where size really can make a difference, Lenn never let himself just sit back and savor the realization of how far he had come. He always pushed himself doubly hard, rarely permitting himself the leisure of a single day off from practicing his sport during his entire professional playing career. And, though he never allowed it to become an issue, he does acknowledge being the target of the occasional derogatory slur in reference to his ethnicity.

Despite these challenges, he has no complaints about his life as a major league player. Rather, he is sincere in his humility and emphatic in his appreciation that he is truly blessed, that he has been 'living a dream'. This from a man who, though a first-round draft pick, received only $10,000 to sign and who, even at the peak of his career as a vital element in the success of the world-champion Baltimore Orioles, earned merely a fraction of what much lesser players today earn.

And, from this man who has garnered his share of attention, traveled the world and had experiences most of us can barely imagine, come fond remembrances from more than three decades ago of playing for the Kalani Falcons for the pure motive that 'it was fun'. As Lenn describes himself and his Falcon teammates, 'We would've played everyday if there was a game to be played. We just played for the love of it.'

Then, as now, the Falcon baseball team had to commute to Kahala Field every afternoon for practice. They hustled to complete their workout before having to give up the field at 5 p.m. every afternoon to the Little Leaguers.

Well, that Falcon team proved that it could definitely be profitable to play for love, because they went on to win the 1970 state title and, to this day, is still considered to be one of the best prep teams ever in Hawaii.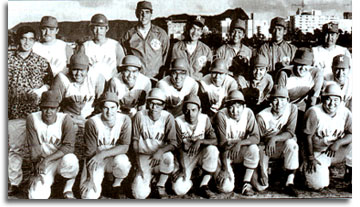 As a coach and manager now, Lenn often thinks back to that season and tries to analyze what it was that made that team so exceptional. The way Lenn sees it, that team, under the guidance of coach Herb Okamura, quite simply, 'knew how to win'. They never gave a single moment's thought to losing but, rather, expected to win every time they took the field.

Pitchers Ryan Kurosaki and Dean Omiya, the Kim brothers — Ronald and Rodney, second baseman Bryant Akisada, centerfielder Joe Story ('a really good athlete'), and third baseman Mike Shiira ('one of the best clutch players I've ever seen') are just some of the talented teammates that Lenn says he still shares a special bond with to this day. In fact, many of them still keep in touch regularly, often playing softball and golfing together.

As Lenn explains, it was their winning attitude, coupled with their desire to play for the sheer love of the game, that made them so extraordinary and successful as a team.

These days, though his love for the game is as strong as ever, Lenn's passion for baseball is most evident in his concern over the state of major league baseball. He worries that, now, it is too much about money.

With an excess of easy riches, comes the inflated egos of some big leaguers who place themselves above the best interests of their team. These athletes, Lenn posits, really don't want to be heroes. Instead, what they do want is all the 'good stuff' that accompanies their fame and wealth, without having to pay the price for it — such as by setting a good example for young people.

And, Lenn suggests, the media, in their desire to grab headlines, exacerbate this condition by focusing on the antics of these prima donnas, rather than shining their light on worthy role models. Our young people then emulate these miserable examples. And some parents, beguiled by the possibility of big scholarships for their child, or a vast fortune, may unwittingly reinforce in them the wrong values, too.

Lenn credits the success that he has had in professional baseball to the virtues of teamwork and selflessness that his own parents instilled in him. He believes he was able to play in the major leagues for as long as he did because, though it's not glamorous to come off the bench to pinch run or to go out to the bullpen to warm up the pitcher, whatever it took to help his team, that's what he did. Lenn recognizes that some players, quite the opposite, would feel that it was beneath them to play such a role.

If given the opportunity to pass on some advice to parents and young players today, what would Lenn say?

He would urge parents to teach their children to respect their coaches, their teammates, and the game. To young players, he is succinct — play for the right reason — for the love of the game.

Lenn himself never sought to become a role model or a hero. If he is either, he says it is simply a result of what happened because 'I just wanted to play baseball.' Somewhere along the way, this mantle was placed upon his shoulders and he wears it well.

When this interview took place some time ago, Lenn's Grizzlies were in the midst of a discouraging season, and the thought had crossed his mind that his team could end up in the cellar. We didn't know it at the time, but the seasons' end would find that this dread would indeed come to pass. Yet, at this moment, while understandably frustrated and disappointed, Lenn was handling it with grace. With the carriage of one who, as a matter of course, accepts and respects unconditionally the sometimes harsh truths of the game, he remarked, 'Somebody in the league has to end up in last place. I always know that in the back of my mind and I'm always hopeful it's not me. But that's part of the game.'

And, it seems, nothing can affect his commitment to 'give back' to his home state. With what little free time he has, Lenn is always willing to lend his experience and expertise to developing what he considers to be a wealth of young local talent in Hawaii.

And we Falcons may need to beware. In his characteristically generous way, Lenn provides his guidance to anyone who wants it, not just his alma mater.

And his generosity extends even further. For example, in addition to giving up hours for this interview (on a game day while on the road, no less), when a Babe Ruth tournament that just happened to include a team from Hawaii was held in Fresno, Lenn arranged for all the players and supporters to attend a Grizzlies home game.

The Fresno Grizzlies won that night, in a hard fought game against the Portland Beavers.

Two of my nephews were part of that Hawaii Babe Ruth team and, after Lenn's Grizzlies departed the field in triumph, some of us Hawaii fans had a security guard ask Lenn to come back out, on the pretense that we wanted to thank him for the game tickets and shower him with macadamia nuts, kaki mochi, and other requisite goodies from home. But, deep down, we knew what we really wanted was the opportunity to rub shoulders with Lenn Sakata. And who could blame us?

Lenn graciously obliged. Though already submerged in a stack of post-game reports, Lenn returned to the field to politely sign autographs and warmly exchange handshakes with us admirers leaning over from the stands. He made us very happy.

Although some time has passed, I remember that evening clearly. It was apparent that my fifteen-year-old nephews, and my senior citizen mom and aunty were all thrilled to meet Lenn Sakata. He made our night.

Seems like the kind of response that only a role model and a hero could evoke.