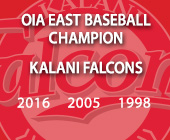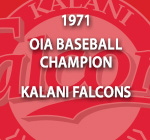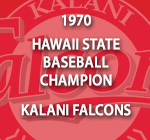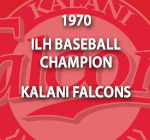 Kalani Baseball Trivia
Think you know a lot about sports trivia? See how many questions you can answer involving Kalani Baseball Alumni. Click on the "A" button for the answers.



Q Name the Falcon who made Major League history by being part of the first All-Hawaii battery to play in a Major League game?



Q Who has the record for most wins as a manager in California Baseball League history?



Q This former Falcon was part of three Super Bowl wins with the Pittsburgh Steelers and was a two-time Pro Bowler. Who was he?



Q Who was the first Hawaii born and raised baseball player to see action in the World Series?



Q What current OIA (Oahu Interscholastic Association), team is the only team to win the ILH and State Championship in the same year?



Q Name the former Falcon who was the captain of the US Handball Team, and played on the US Team in the 1984 and 1988 Olympic games?



Q This former Falcon was the Big 12 Freshman of the Year, Baseball America, and Collegiate Baseball Freshman All-American in 1999. Do you know who he is?



Q Name the last player to play shortstop for the Baltimore Orioles before Cal Ripkin started his 2,632 consecutive game streak.



Q Who was the first American of Japanese Ancestry to play Major League Baseball?