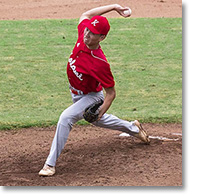 Falcons End Regular Season With Blow Out Of Knights
Honolulu - Kalani had no trouble on offense today, winning big over Castle 9-1.

Kalani got things moving in the first inning, when Kai Matsumoto grounded out, scoring one run.

The Falcons pulled away for good with two runs in the third inning. In the third Matsumoto homered on a 2-0 count, scoring two runs.

Kalani scored three more runs in the fifth inning. The offense was led by Travis Toyama and Zachary Wong, all driving in runs in the frame.

Kekoa Gabriel pitched Kalani to victory. He allowed one hit and zero runs over four innings, striking out three and walking zero.

Jarod Kaneshiro started the game for Kalani. He lasted three innings, allowing two hits and one run while striking out two.