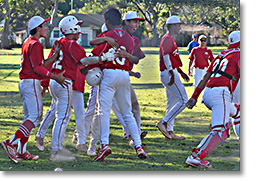 Kalani squeaks by No. 7 Kailua in nine innings
Kahala - Jarrod Kaneshiro scored the winning run from second base on a throwing error with no outs in the bottom of the ninth inning and Kalani edged No. 7 Kailua, 2-1, Wednesday at Kahala Community Park.

The Falcons (6-2) pulled into a tie for first with the Surfriders (6-2) with four games to play in the Oahu Interscholastic Association Division I Eastern Division with the victory.

"We're just trying to stay ahead of Kaiser and Moanalua (fourth and third, respectively in the East) and try to get the bye," Kalani coach Shannon Hirai said. "Whether we win the division or not, the bye is the important part."

The top two teams from the East and West draw first-round byes for the 12-team OIA tournament.

"It feels great to beat these guys (Kailua)," Kalani senior second baseman Kekoa Gabriel said. "They're a tough team, but we held our own, did what we needed to do to get the 'W.'"

In the bottom of the ninth, Kailua relief pitcher Ryan Inouye allowed a lead-off single to Kaneshiro, who entered the game in the top of the seventh as a defensive replacement. Kaneshiro took second on a passed ball before Zachary Wong walked. Designated hitter Noah Nakasone then hit a comebacker to Inouye, whose wild throw to third scored Kaneshiro to end the game.

It was an anticlimatic finish in what started as a pitchers' duel between Kalani's Edward Lee and Kailua's Stone Parker. Both pitched eight innings and allowed their runs in the sixth inning. Parker scattered four hits and two walks, while striking out a season-high 13. Lee enjoyed his best outing of the season, allowing seven hits and a walk with five strikeouts before giving way to Riece Myers, who picked up the win by allowing a hit in a scoreless ninth for the Falcons.

The last time the two teams met at Kailua, Bryson Ballesteros fired a 1-0 no-hitter against the Falcons. For five innings, it looked like Parker was going to repeat the feat. But Travis Toyama led off the sixth by hitting Parker's first pitch to left for a double. An out later, Toyama scored on Gabriel's run-and-hit single to left to tie the game at 1. But Parker, who later walked a batter, escaped further damage with his 10th strikeout of the game and a harmless fly out to center.

Parker struck out Gabriel twice before the game-tying single.

"I was thinking too much," Gabriel explained about his two strikeouts. "I wasn't as relaxed. I was listening to my teammates, my coach telling me to relax, relax."

Lee wasn't a dominating as Parker in the first five innings, but had help with two double plays. But in the top of the sixth, Dakota Kadooka grounded a double to left, took third on Matt Kaleohi's sacrifice and scored on Jalen Ah Yat's sacrifice fly to deep center before Kalua Neves struck out to end the inning.

"We've been fortunate," Hirai said. "Our pitching has been keeping us in. "Eddie actually has struggled. Today, was the first day he was able to throw his off-speed and vary the speed."

Parker was having his way with Kalani through five innings. He retired the first 10 batters before walking Chad Kagawa in the fourth. Courtesy runner Zachary Wong stole second, but was left stranded. Parker then retired the Falcons in order in the fifth before allowing Toyama's double that spoiled the no-hit bid.

"I don't know about (throwing) hard, but he was accurate, hitting his spots," Kailua coach Corey Ishigo said of his 6-foot-5 right-handed pitcher who has signed with Kansas. "He had command of more than one pitch."

An arm injury has limited Parker's outings the past two seasons.

"He's just starting to reach his maximum potential," Ishigo said.

But offensive woes could not support Parker's performance.

"Your pitcher goes seven innings, gives up one run and you can't win, you shouldn't be able to win against any team," coach Ishigo said. "We have to be able to generate more runs somehow. They're still focusing more on their personal stats than trying to win a game as a team, not willing to bunt when a situation calls for it. It's just doing the little things."

Kalani will host Moanalua 11 a.m. Saturday at Les Murakami Stadium. Kailua does not play until April 4, when its hosts Castle.