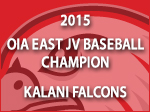 2016 Varsity Pre-Season
2/6
Aiea
@Mililani
2/9
St Francis
- 'Iolani Tournament -
2/11
@'Iolani
2/12
@MPI
2/13
@Kam
2/15
@Campbell
- Kitamura Tournament -
2/18
@MPI
2/19
@Kapaa/Maui
2/20
TBA
2/21
TBA
- Mililani Tournament -
2/26
Punahou
2/27
Waianae
2/26
"IoLani
Regular Season

3/2
@Moanalua
3/5
@Kaimuki
3/9
Kailua
3/12
@Roosevelt
3/16
Kaiser
3/23
@Castle
3/26
Moanalua
3/30
Kaimuki
4/2
@Kailua
4/6
Roosevelt
4/8
@Kaiser
4/16
Castle
OIA Championship

4/20
TBA
4/21
4/22
TBA
4/23


OIA East Standings

Team
League
Overall
Castle
0-0
0-0
Kailua
0-0
0-0
Kaimuki
0-0
0-0
Kaiser
0-0
0-0
Kalani
0-0
0-0
Moanalua
0-0
0-0
Roosevelt
0-0
0-0

Varsity Season starting
The Falcons open the 2016 campaign on February 6th with a double header. The first game is scheduled for a 10 am start at home game against Aiea. The Falcons travel to Mililani for the second game at 4:00 pm.

The pre-season features 14 games against the states top baseball programs. The regular season in the OIA East is always tough as Kalani battles Castle, Kailua, Moanalua, Roosevelt, rivals Kaimuki and Kaiser.

Stop by and see the 2016 Falcons in action.

No-hitter leads Kalani past McKinley
Ian Higa was great on Saturday, throwing a no-hitter in Kalani's 12-0 victory over McKinley.

No McKinley batter was able to locate Higa's pitches during the game. Higa struck out 12 batters and walking one while recording his momentous feat.

Six runs in the first three innings helped the Falcons blow out the Tigers. An error, an RBI triple by Jarod Kaneshiro, and an error during the first inning and a steal of home by Dray Awaya, a wild pitch, and an error in the second inning helped put some runs on the board early. Boxscore


Win puts Falcons at the top of the OIA East
Kalani jumped out to an early lead on Farrington and captured a 7-1 victory on Wednesday at Joey Desa.

With five runs in the first three innings, the Falcons left no doubt about the eventual outcome.

Edward Lee got the win for Kalani thanks to nine strikeouts. Lee allowed no earned runs, four hits and four walks over seven innings.

The Falcons were sparked by Chad Kagawa and Nakasone, who teamed up for three hits and two RBIs. Boxscore


Dual-threat carries Kalani past Kalaheo 11-6
Kalani beat Kalaheo 11-6 Saturday behind both the bat and the arm of Jarod Kaneshiro.

Kaneshiro racked up two RBIs on one hit for the Falcons. His six strikeouts were enough to push Kalani past Kalaheo. Kaneshiro allowed no earned runs on three hits and three walks over 3 1/3 innings.

The game was back-and-forth heading into the fifth, with three lead changes.

In the top of the first, the Falcons grabbed the early lead, 2-0. The Falcon attack began with a single from Travis Toyama. A single by Kekoa Gabriel then moved Travis Toyama from first to third. Justin Gatewood singled, bringing home Travis Toyama. The scoreboard lit up again for Kalani when Gabriel scored on a groundout by Cabbat.

Kalani piled on three more runs in the top of the sixth. A error scored Gatewood and Cabbat to start the scoring in the inning. Boxscore


Early lead gives Kalani victory over Roosevelt, 11-4
Kalani jumped out to an early lead on Roosevelt and captured an 11-4 victory on Wednesday at Kahala Park.

Five runs in the first three innings allowed the Falcons to put the game away early.

A groundout by Kekoa Gabriel and a two-run double by Jarod Kaneshiro in the first inning supplied the early offense.

Logan Cabbat got a hit in each of his two at bats. He singled in the first and fourth innings.

Edward Lee got the win for Kalani. He allowed two runs over 3 2/3 innings. Lee struck out five, walked three and gave up two hits. Boxscore


Kalani scores early and coasts to 8-2 win
Kalani jumped out to an early lead on Kaimuki and captured an 8-2 victory on Monday at Kahala Park.

With five runs in the first three innings, Kalani left no doubt about the eventual outcome.

Riece Myers was solid at the plate for Kalani. Myers went 2-2 and scored two runs.

Ian Higa racked up 13 strikeouts for the Falcons. Higa allowed two earned runs on five hits and two walks over six innings.

Kalani scored one run in each of the third, fourth, fifth, and sixth. In the third, Kalani scored on a solo home run by Gatewood. Boxscore


Falcons jump on Cougars early and coasts to 10-3 win
Kalani jumped out to an early lead on Kaiser and captured a 10-3 victory on Saturday at Kaiser.

The game was decided quickly as Kalani exerted its will early with five runs in the first three innings. A wild pitch, an RBI single by Logan Cabbat, and an RBI single by Noah Nakasone during the first inning and a two-run error in the second inning helped Kalani put some runs on the board early.

Justin Gatewood got on base three times in the game for the Falcons. He singled in the first and fifth innings.

Edward Lee recorded the win for Kalani. He allowed three runs over five innings. Lee struck out four, walked five and gave up two hits. Boxscore


Falcons hold off Menehune's for 4-2 win
An impressive two-way performance from Jarod Kaneshiro led Kalani to a 4-2 win Wednesday over Moanalua, as Kaneshiro came up huge at the dish and on the hill.

Kaneshiro racked up two RBIs on two hits for Kalani. He singled in the second and sixth innings.

Kaneshiro was a workhorse on the mound while picking up the win. He allowed one earned run, six hits and three walks while striking out three over seven innings of work.

The game was back-and-forth heading into the third, with four lead changes.

The Falcon finally managed to grab the lead after a strong third inning. A bases loaded walk scored Kekoa Gabriel and gave Kalani the lead for good. Boxscore


Kalani defeats Castle 4-1
Justin Gatewood went 2-3, helping Kalani to a 4-1 victory over Castle on Saturday at Castle.

He singled in the first and third innings.

Edward Lee was a workhorse on the hill while bagging the win for the Falcons. Lee pitched 6 2/3 innings and allowed one earned run, four hits and two walks while striking out five.

The game was never in doubt after the first, as Kalani Falcon JV scored one run on an RBI single by Gatewood.

Kalani piled on three more runs in the top of the second. A error scored Dekota Kelly for the inning's first run. That was followed up by Zachary Wong's triple, scoring Jarod Kaneshiro. Boxscore


Kalani falls to Kailua 7-6
Justin Gatewood did all he could to give Kalani a boost, but it wasn't enough to get past Kailua , as Kalani lost 7-6 at Kahala Park on Saturday.

Gatewood racked up two RBIs on one hit for Kalani. He singled in the seventh inning.

After pushing across two runs in the bottom of the sixth, Kalani faced just a 7-2 deficit. A hit by pitch and triggered Kalani's comeback. The Kalani threat came to an end when Ian Higa flied out to right.

Four runs in the bottom of the seventh helped the Falcons close its deficit to 7-6. An RBI single by Chad Kagawa, a wild pitch, and a two-run single by Gatewood fueled the Falcons comeback. Boxscore